5 tags
5 tags
4 tags
5 tags
6 tags
6 tags
5 tags
5 tags
7 tags
6 tags
8 tags
6 tags
6 tags
3 tags
5 tags
4 tags
4 tags
4 tags
6 tags
6 tags
4 tags
3 tags
5 tags
4 tags
NFL Draft Recap
In case you missed it, three Trojans were selected in the 2012 NFL Draft and several more have latched onto professional teams as undrafted free agents. 1st Round - LT Matt Kalil, Vikings 1st Round - OLB Nick Perry, Packers 4th Round - FB Rhett Ellison, Vikings UFA - DT DaJohn Harris, Titans UFA - RB Marc Tyler, Packers UFA - WR Brandon Carswell, Raiders UFA - LB Chris Galippo, Colts UFA - DT...
6 tags
2013 NFL Draft Projections
USC football had only three players drafted in 2012, which was its lowest total since 2002.  In this case, the stat reflects more on how loaded the Trojans are for next season more than any talent attrition in the program. As the 2013 mock drafts start to come out, it is clear that USC players will dominate the headlines next April.  For example, Pete Prisco of CBSSports.com has three Trojans...
6 tags
7 tags
6 tags
3 tags
4 tags
5 tags
3 tags
3 tags
2012 USC Football Schedule
For the first time since 2009, the USC football season can end in postseason glory, but the Trojans will have to work through a daunting 12-game regular season slate before a possible Pac-12 Championship and/or bowl game.  USC will host showdowns against Oregon, Notre Dame, Cal, Colorado and Arizona State after a non-conference opener versus Norm Chow's Hawaii.  The Trojans will travel...
3 tags
3 tags
"I know in my heart I have not yet finished my journey as a Trojan football..."
– @MattBarkley
5 tags
3 tags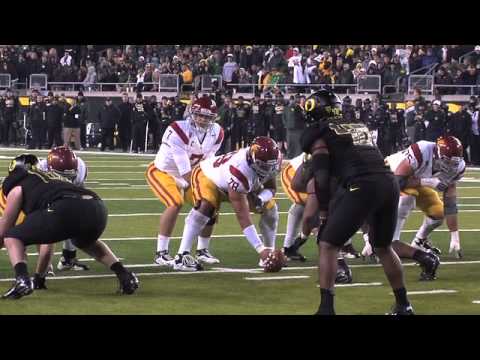 4 tags
2011 Football Award Winners
USC football held its annual banquet tonight to celebrate a 10-2 season, which opens the door for bright things to come as the Trojans are bowl eligible in 2012. Here are the award winners for 2011: Team MVP - Matt Barkley, QB, Junior Trojan Way Leadership Award - Rhett Ellison, TE/FB, Senior Most Inspirational - Christian Tupou, DT, Senior John McKay Scholarship Award (Competitive...
6 tags
4 tags
3 tags
3 tags
2011 USC Season Recap
The #9 USC Trojans (10-2, 7-2 Pac-12) finished strong and obliterated the so-called South division champs, the UCLA Bruins (6-6, 5-4 Pac-12), 50-0 on Saturday night. It has been one of the best seasons in USC history even though the NCAA took away the opportunity to compete in championship games. The Trojans showed the NCAA that you can unfairly sanction the players who had nothing to do with...
4 tags
USC makes Pac-12 'Championship' Game a Joke
The No. 10* USC Trojans (10-2, 7-2 Pac-12) buried the UCLA Bruins (6-6, 5-4 Pac-12) 50-0 and sent a message to the college football world. Not only are the Trojans back in the top of college football, but the Pac-12 Conference "championship" game is meaningless because the best team is not there. Highlights USC 50, UCLA 0 QB Matt Barkley (35-of-42, 83 percent, 423 yards, six TDs, zero INTs)...
5 tags
#10 USC 50, UCLA 0
Matt Barkley passed for 423 yards and six touchdowns in his possible Coliseum farewell, Robert Woods set the conference's single-season receptions record while catching 12 passes for 113 yards and two TDs, and No. 10 Southern California finished its resurgent season with a 50-0 demolition of Pac-12 title game-bound UCLA on Saturday night. Sanctions will keep USC out of the conference...
7 tags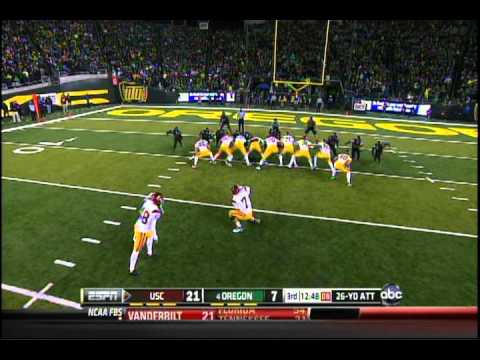 2 tags
"In the face of adversity unlike any the school has ever seen before, these..."
– Fight On!
6 tags
NCAA, you can't sanction the endzone!
This year's Southern California football team refuses to let something like NCAA sanctions keep them from adding to the legacy that is USC football. With a victory over their crosstown rivals this past Saturday, USC will be the first ever Pac-12 South Champions. However, while the division championship is within their grasp, their chances of playing in the Pac-12 Championship Game are equal...
5 tags
USC 38, #4 Oregon 35
The No. 18* USC Trojans (9-2) shocked the No. 4* Oregon Ducks (9-2) 38-35 by getting a big enough lead to hold on for victory even with two turnovers in the last eight minutes as most of the 59,933 fans watched in disbelief. Matt Barkley was confident that USC (No. 18 AP) was headed for an upset all along, even when fourth-ranked Oregon mounted a comeback. "We expected to shock...
4 tags
Trojans in the NFL - Week 9
The best Trojans in the pros as the NFL makes the turn at the midway point of the season. Heisman Worthy Brian Cushing, LB, Texans - 7 tackles and a sack The "Bergen Brawler" has had a nice bounce back season for first place Houston.  He leads the Texans in tackles after adding seven more in Sunday's blowout win over the Browns.  He also dragged down Colt McCoy for his...
3 tags